Saltwater Flies
SALTWATER FLIES
All these flies are suitable for cold water European fish and venues
TIDAL ZONE FLY SELECTIONS
Fishing in tidal lagoons, marinas and estuaries for Bass in the 1lb to 2lb size range is best done with smaller flies and lighter tackle, 9/10ft rods with AFTM 7/8 are suited to this sort of venue. Off the rocks a #9 outfit is better. These selections contain patters that imitate a wide range of aquatic residents, no doubt there are more. Suggestions welcome!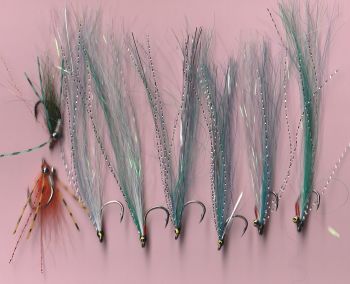 Little Herring, Sandeel, Chaineye Sandeel, Silli Charlies.
These are useful for any fish feeding on scuds, shrimps and the like.
SB White Larva, GB Killer Bug, Little Weed, Cuddy Fly.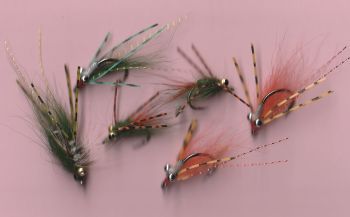 These are weighted patterns to fish across the sand with. Use a fast sink shooting head and a short 3 ft leader, cast out and leave until it all goes slack and inch along.
Orange and Olive Silli Charlies, Mudbug.
THE DEEP WATER ZONE - tied on carp hooks suitable for rock fishing down the page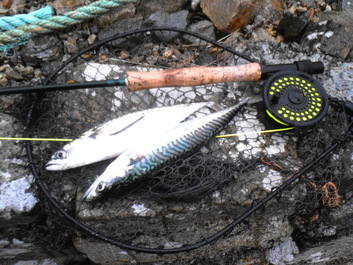 CLICK HERE TO SEE A MACKEREL FLYFISHING IN GRAVIR VIDEO
Mackerel are feeding on Whitebait shoals in front of our house. More fun than catching bucket loads from a boat, try using a 10ft AFTM#7 outifit, a floating line and some Elvers for some super sport. Remember that a good fish is one you enjoyed catching....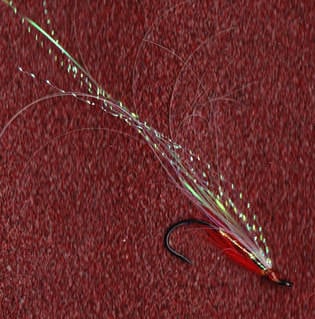 SIZE ZERO ELVERS #6
Try this slimline tying if the fish get fussy. Tied on Stainless steel fine wire Aberdeen hooks.
Size Zero Elvers #6 - 2 flies for £1.50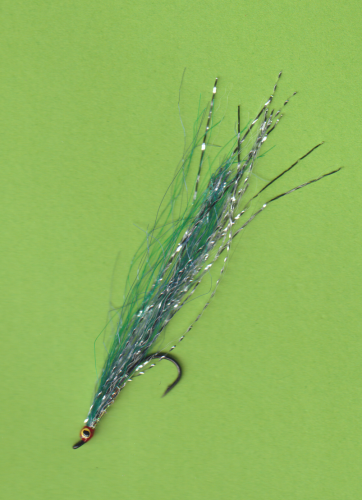 Use this fly for sea trout when they are feeding in shallow tidal water, try all speeds of recovery to find what the fish want, from on the drop to stripped.
Tied on fine wire stainlees steel Aberdeen hooks.
Whitebait #6 - 75p per fly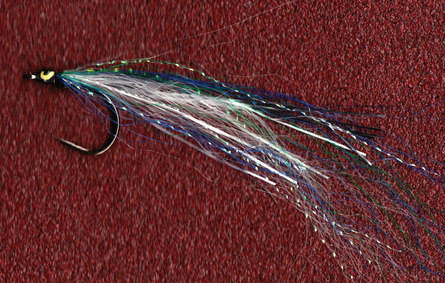 This is the best bet for Mackerel in open open. The larger hook means small sea fish are less likely to get hooked but a decent mackerel or sea trout has no problem. Again stripping will work but when you are faced with large shoals of whitebait and lots of frenzied mackerel the stripped fly is often ignored. Try this, cast into the area of activity and allow the fly to sink, tighten if you feel a take, the odd tweek or a slow figure of eight retrieve can also be effective. Mackerel hunt by charging into the shoal of small fish and stunning as many as possible, then they swim round mopping up the injured tiddlers. Do not mistake the habits of Mackerel in huge shoals when you catch them by the bucket load from boat or pier, casting to fast moving shoals of fish from the shore is quite a challenge
Whitebait #4 - 75p per fly
More Tidal Zone patterns down the page
Tied on carp hooks with more dressing, use these when fishing off rock and kelp beds. These will tempt bass, pollock and coal fish. Short shank carp hooks are very strong, hook fish well and the shorter shank means fewer wing hang ups.
P&P is free (minimum order £5)
CLICK HERE TO WATCH A ROCK FISHING VIDEO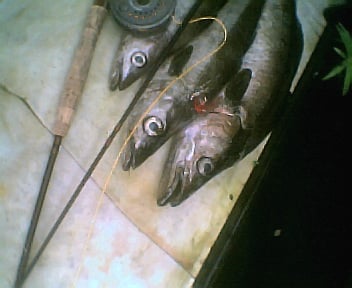 THE DEEPWATER ZONE


GIANT SHANKS
These are tied on carp hooks and are suited to floating or sunk line work when fishing off the rock. The shank is left undressed to facilitate hooking and unhooking. The wing is tied mainly with synthetic materials which do not soak up water and so the fly does not increase in weight, this helps casting in wind and combating wild water. Tied in different colours to represent a range of bait fish. Fish this fly deep during daylight hours on a fast sink line, always worth a try in the evening on a floating or intermediate line, fish just beneath the surface and watch big pollack swim up to take it.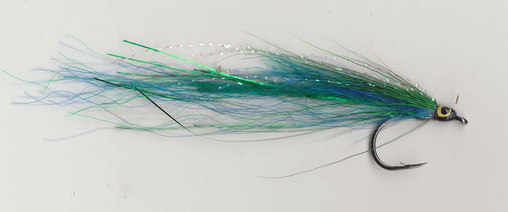 SEA GREEN SHANKS #2 - 75p each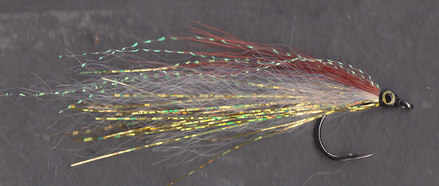 This fly is really orange/golden yellow, my scanner does not like fluo colours!(much nicer looking in the flesh)
SUNBURST SHANKS #2 - 75p each
BLUE & WHITE SHANKS #2 - 75p each
BASS ELVERS #4
Tied with chaineyes, use this fly for fast retrieves in kelp strewn rock marks for all passing prediters.
A smaller version is listed in the Tidal Zone. Tied pretty thin to imitate eels and the like, use Giant Shanks if you need a fish imitation.

SEA GREEN BIG BASS ELVER #4 - 85p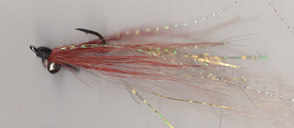 This is a lovely golden yellow/orange colour in the flesh
SUNBURST BIG BASS ELVER #4 - 85p each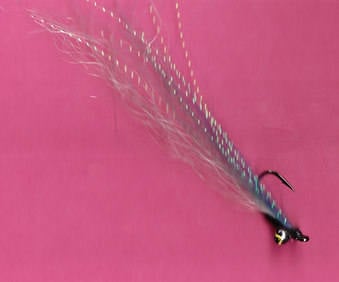 BLUE BIG BASS ELVER #4 - 85p each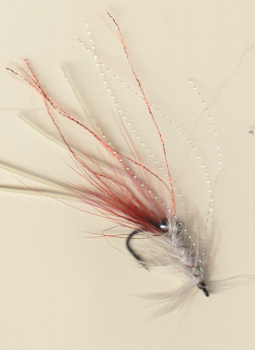 SILLI SQUID #2
After casting a sunk line and a big fly for an hour or so your arm may well need a rest. Try this on a fast sink line and short 3ft leader. Cast as long a line as possible and let it sink into the depths. Retrieve the line just enough to keep in touch with the fly, so slow you might be going backwards is worth repeating to yourself, takes show on the rod top as knocks, think weirpool barbel fishing and you are there. Tied in proven colours.
1 x Silli Squid #2 - 95p each

THE TIDAL ZONE
Use the larger flies in a tidal lagoon or estuary and the fish will just laugh! Even mackerel feeding in shallow water can be far more choosy than you might think, sea trout are never mugs. The following patterns will work in sheltered water conditions and can be cast on AFTM6/7 outfits. All are tied on salmon hooks.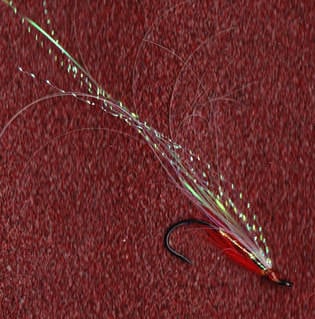 THE ELVER FLY
Sand eels and elvers form a part of many saltwater fishes diet, use this fly whenever you see surface feeding fish. Quick retrieves are in order as the eels swim like hec when they are chased! If stripping fails try fishing one on the drop. Tied on fine wire stainless steel Aberdeen hooks.
The Elver Fly #6 75p each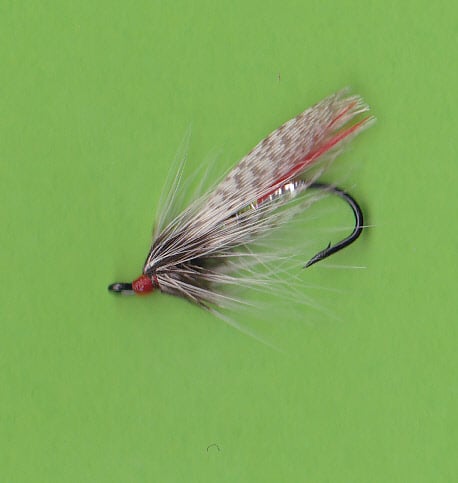 GRANDPA COX'S MINNOW FLY #6/8

This well hackled fly is very handy in weedy conditions, its bulk means it can be fished slowly or dead drifted through the snags and weeds.

Grandpa Cox's Minnow Fly #6 - 75p each
Grandpa Cox's Minnow Fly #8 - 75p each
SIZE ZERO MUDDLERS
When big fish chase small fish you will often see surface activity as the baitfish try to escape. Use a Zero Muddler to skate just subsurface to get the predators attention. Not sure the colour matters so use orange! Tied on fine wire stainless steel Aberdeen hooks.

Size Zero Muddler #6



MULLET FLIES
(useful for smaller saltwater species as well)
Click here to see a youtube Mullet Flyfishing feature
Try the Gold Ribbed Hare's Ear #10 or Killer Bug to imitate the water louse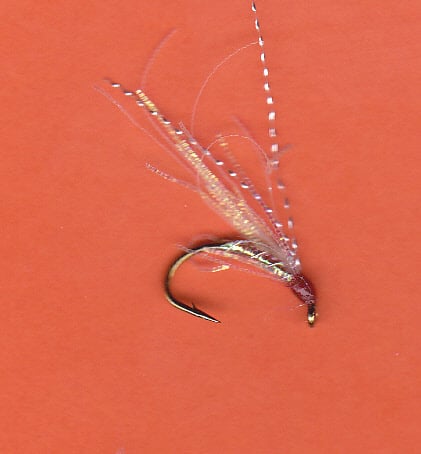 THE CUDDY FLY
Simple little fly to inch along, imitates nothing and everything, this fly will catch Herring which are pretty fussy!
Tied in off white with pearl crystal hair horns
The Cuddy Fly #10 40p each
GOLDBEAD MAGGOT
Mullet and other fish feed on the larva of the sea weed fly, try this pattern near rotting weed.
Tied on a Black Nickel hook and uses a matt bead.
The Goldbead Maggot #10 - 45p each
The Goldbead Maggot #8 - 45p each
If they will not take the Maggot try this


Silverbead Killer Bug #10 - 45p each

Silverbead Killer Bug #8 - 45p each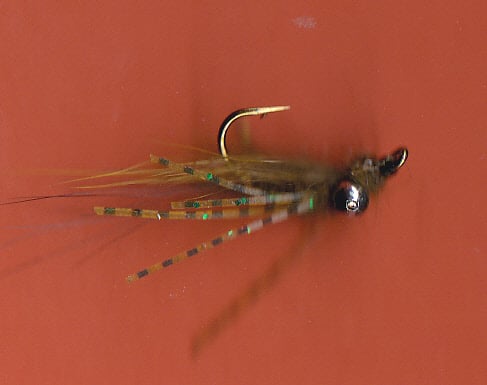 Try this in tidal/saltwater sea trout locations. Fish on a fast sink line with a 3/4ft leader, bounce the fly across sandy bottoms to tempt fish feeding on small flatties, crabs and anything else that lives down there!
2 x Mudbug flies #8 - £1.50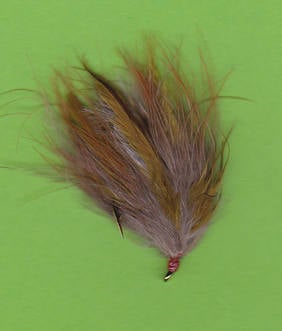 SEA WEED FLY (unweighted)

Mullet graze on loose sea weed try this fly when you see fish swirling at the surface if they refuse other patterns.

Sea Weed Fly #10 - 45p each
Sea Weed Fly #8 - 45p each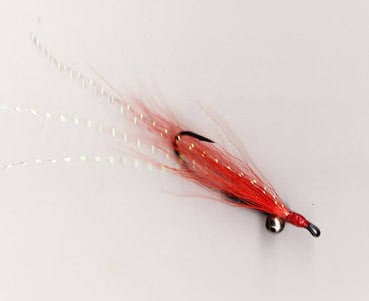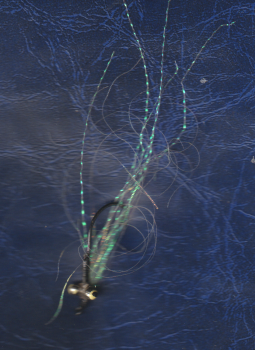 Tied on low water salmon hooks with less dressing, use these when larger flies fail. Tied on fine wire stainless steel Aberdeen hooks.
Pearl Chaineye Elver #6 - 85p each
Orange Chaineye Elver #6 - 85p each
P&P is free (minimum order £5)