Rock Fly Fishing Feature
SALTWATER FLYFISHING IN U.K. WATERS: Part 1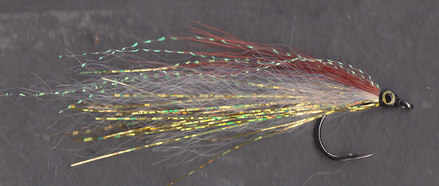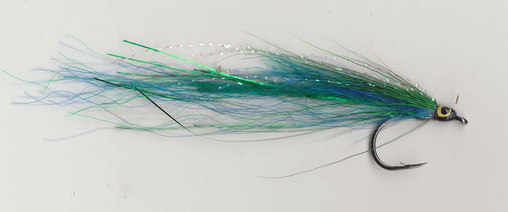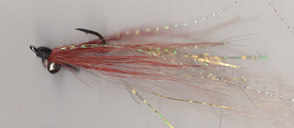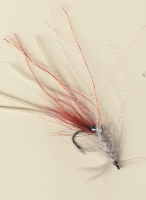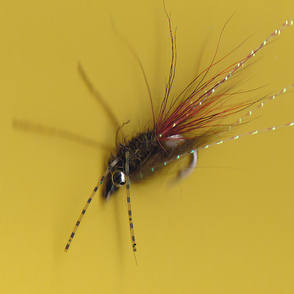 A selection of U.K. rock flies,

Giant Shanks, Mud Bug, Chaineye Elver, Silli Squid, Giant Bass Elver - 10 flies for £7.90 inc P&P
Rock Fishing in the Outer Hebrides for Pollack

(and other passing predators)
First find your fishing spot. A fair bit of planning can be done with the aid of a Pathfinder O.S. map, but at the end of the day you need to walk. Look for rocky outpoints beneath cliffs and you'll find big Pollack. True fish up to 2lb or so can be found off piers, in estuaries etc, but to target fish up to double figures you need open sea, cliffs, kelp and rocks.
The key factor when looking for suitable fishing platforms is safety; this comes first and last on any list. Safe spots mean walks rather than climbs to the location; once there you need to be able to get a net in the water from the rock that you fish from. Fishing twenty feet above the water is a bad idea; at some point you'll hook a big fish and then you have to net it; if you're on precarious footing, this is when accidents happen. Drop nets encourage people to fish from daft spots. On the safety line again, never fish in rain, as the rocks get very slippery.
Watch out for the rising tide; high wind and wave action can make fishing dangerous and unpleasant, so plan your trip to coincide with half decent conditions at the very least, and be prepared to flexible – either by cancelling, or seizing the day. A missed opportunity isn't the end of the world, and there will always be other chances. Wear a lifejacket, not a suspender type, but a proper sleeveless one; in a cool breeze, it's often the best bet as a garment as well. Sturdy boots are the best footwear. Also a long handle carp landing net is the best and safest way to land fish.
Having found your fishing rock, check for all these things and you will no doubt have fun. It pays to fish with a companion for practical and safety reasons.
Fish can be caught during the day and at any stage of the tide, but given the choice I would always fish an evening rising tide. The turn of the tide (low tide starting to rise) can also be productive. Whatever, if you fancy fishing just go, as the fish often ignore all the books and advice and please themselves. A late June light night means you can fish until midnight and beyond should you have the urge. Always try to be on the water for the last hour of 'daylight', which is also the best time to see whales, dolphins and porpoise.
The following outfits cover most situations. Set up all rods before you start fishing; once you start to get fish you don't want to waste precious time tackle rigging. On occasion fish will be active for hours, but quite often the period of time when the fish are taking can be an hour or less, so prepare your kit first!
Outfit !: 9 to 10ft AFTM 8/9 rod with a large arbour reel with a fast sink line – either a WF 8/9, or the rig I prefer, 8 yards of DT10 line looped to level shooting line; a floating DT4 line with the taper cut off is ideal. This is the rig to use when arriving on the rock in the early evening. Use a 3ft leader so the fly follows the line.
Outfit 2: 9 to 10ft AFTM 8/9 rod, a large arbour reel and a floating WF 8/9 line. As the light goes the fish will take very near the surface. This is exciting sport. Strip back a big fly a foot below the surface and watch for big Pollack rising up through the depths to hit the fly! If they're not in the mood, be prepared to fish deep at any stage of the evening. Leaders on this line should be between 9 and 15ft.
Outfit 3: 9 ft AFTM 7/8, large arbour reel, floating WF7/8 line. Use this for fishing smaller flies to tempt passing mackerel, herring, wrasse and smaller Pollack and coalfish.
Leader strength can be between 8lb on the light outfit but 12lb on the two heavy ones. In really kelpy, rocky corners use 15/18lb. Use normal nylon, the stretch helps absorb the shock of smash takes and diving fish. Pollack, even on heavy fly gear, really fight, and their first dive would break a rod if you hold them too hard. However, if you don't dominate them they can end up in the kelp. If this happens, apply steady firm pressure on the fish and he will sometimes be led out. If that fails, let the line go slack and he might well swim out. If all that fails, handline and wait for the line to break; he probably swam round the kelp bed before you stopped him! Two double figure fish are etched into my memory; they just dived and nothing short of me jumping in after them was going to stop them. Always play the fish out well before netting them. Work out where you're going to do your netting before you start to fish, and bear in mind that your location will change as the tide rises or falls. Move slowly when fishing, playing fish and especially when netting. Carry a decent sized priest; fresh Pollack are nice to eat. Forceps are handy if you return fish. Coalfish to my taste buds are not that great.
Most of the fish off the rocks feed on small fish, prawns, squid, crabs and the like. The following patterns will cover most situations Fast Sink Outfit: MUD BUG. This is deadly fished on the drop and retrieved slowly with long slow draws of the line followed by a pause. Cast or rather lob as far as you can manage; this is not an easy lure to cast, and you need to allow the line to take the lure to the depths. Watch the rod end for 'knocks', a bit like weirpool barbel fishing; don't rush to tighten until the knocks turn into a strong pull. THE SILLI SQUID is similar Again, fish on the drop or retrieve slowly.
Sometimes the fish like a stripped lure, in which case CHAINEYE ELVERS and BIG BASS ELVERS are the answer. The chaineyes and long wing give this fly plenty of action. Fish can really hit this fly when retrieved quickly so hold on to the rod when one takes.
All the above flies can be fished on the floating line but I tend to reserve this outfit for a large GIANT SHANKS. This is the pattern to tempt the big fish. In September and October, Pollack up to double figures start to feed on young Pollack and coalfish. On occasion they swirl at the shoals of small fish, resulting in some pretty exciting fishing under the cliffs. This fly will take fish stripped or left static, tweaked along like a small dying fish, Pollack really go for these.
Flies to use on the light outfit are small Crazy Charlies, Elvers, Cuddy Flies and even Goldbead Hare's Ear. Fishing these in rockpools can be very effective and great fun for smaller fish.
All these patterns are tied with mainly synthetic materials, which do not absorb water, making them much easier to cast than many over-feathered flies sold as saltwater flies. All are available from Island Flies.
It takes a bit of faith to fish some of the rock locations armed with a fly rod, but believe me, your efforts will be rewarded. Spinning takes fish, but the method is dull compared to fishing the fly. Follow the above and you will succeed.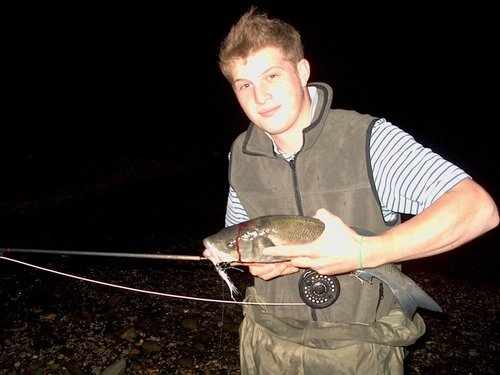 A bass from the south, Island Flies work everywhere! Nice fish Tom
(White Giant Shanks)