Fly Selections
The following sets of flies cover most situations you are likely to encounter on U.K fresh and saltwater locations. You might not agree! Let me know if what you want is not here and I will sort a suitable set of flies out for you. It is a pretty long list, if you prefer just click the following links to take you to the flies you are interested in.
EMERGERS & BUZZERS SMALL WEIGHTED NYMPHS
CLYDE SPIDERS LEADED NYMPHS & BUGS

CLYDE SPIDERS (WET) YORKSHIRE SPIDER
CZECH NYMPHS FANCY SPIDERS DRYFLIES
LOW WATER SINGLES THE TIDAL ZONE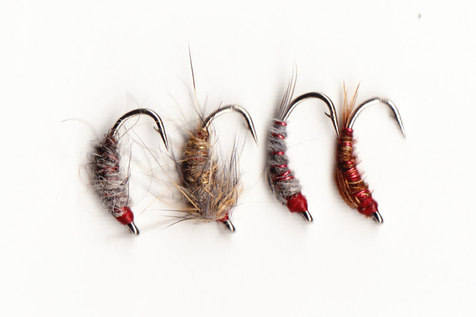 SMALL WEIGHTED NYMPHS #14
These are useful on still or running waters, the lead/copper wire underbody make these patterns cut through the surface film, great to cast at nymphing fish. The Pheasant Tail and Grey Goose are lighter than the Killer Bugs and Gold Ribbed Hares Ear.

Pheasant Tail Nymph, Killer Bugs,Gold Ribbed Hares Ear, Grey Goose.

8 x #14 flies for £2.80
8 x #12 flies for £2.80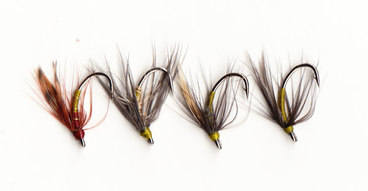 CLYDE STYLE SPIDERS #14 & #16

Top flies on any river or stream. Compliment the Yorkshire tyings perfectly. The clyde tyings imitate hatching and drowned duns while the Yorkshire Spiders mimic free swimming nymphs and pupa.
Sandfly, Hen Blackie, Blae & Harelug, Woodcock & Mixed
8 Flies #14 for £3.20
8 Flies #16 for £3.20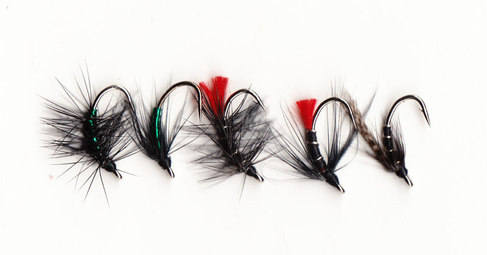 CLYDE WET SPIDERS #12 & #14
These tyings use coloured tinsels and wire ribs to create mini lures. Very handy in peat stained waters, good on the loch and well worth a cast as the light goes. Palmered and spider patterns included.

Reids Assassin, Murrays Bluebottle (green), Teal & Black
8 Flies #12 for £3.20
CLYDE WET SPIDERS #14 (as above but smaller!)
8 flies #14 for £3.20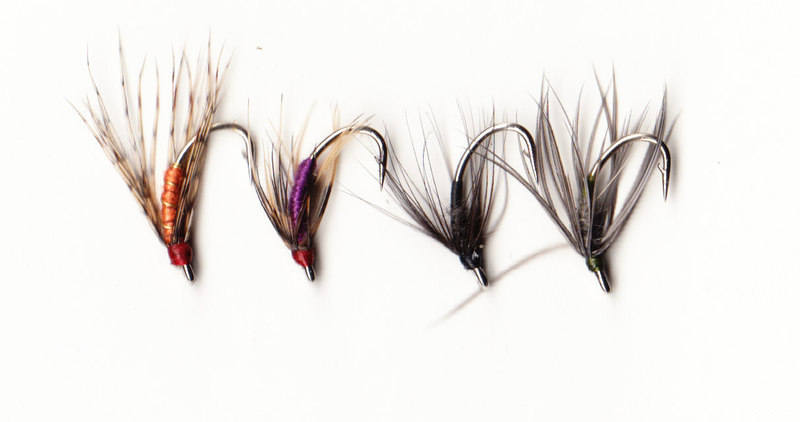 YORKSHIRE SPIDERS #14 (Spring)

These work on any fast flowing stream/river. Classic tyings that fish love.
Dark Waterhen Bloa, Snipe & Purple, Partridge & Orange, Black Spider.
8 flies #14 for £3.20
8 flies #16 for £3.20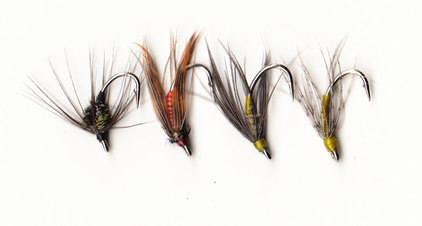 YORKSHIRE SPIDERS #14/16/18 (Summer)
Smaller lighter coloured patterns for the warmer months, compliments the above set.
Waterhen Bloa, Partridge & Yellow, Black Magic, Brown Owl.

8 flies #14 for £3.20
8 flies #16 for £3.20
8 flies #18 for £3.20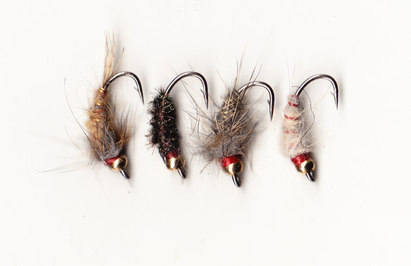 BEADHEAD NYMPHS & LARVA #12
These are great to fish in teams of two and three Czech style or on the point with spiders on droppers. Try a point and dropper rig with 12" between point and dropper, these can be roll cast into pocket water a deadly method in fast water during the warmer months.
Goldbead White Larva, Goldbead Hares Ear, Goldbead Killer Bug, Goldbead Stonefly.

8 flies for £3.20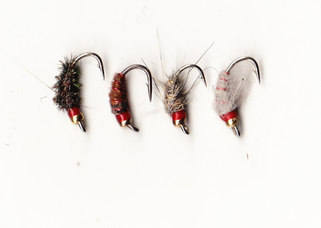 MICRO GOLDBEAD LARVA #14/16
Smaller flies are often the key to success when larger tyings fail. On a three fly Czech Nymph cast use one of these, the weight of the larger flies takes the smaller pattern down to where the fish are feeding.
Goldbead Larva, Goldbead Hares Ear, Goldbead Peacock Bug, Goldbead Pheasant Tail.

8 flies for £3.20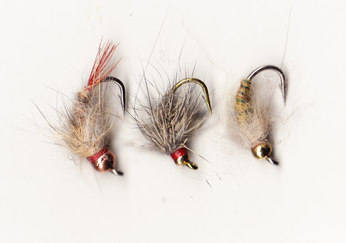 CZECH NYMPHS - SUMO and SUPERHEAVYWEIGHTS #10
Two weights of fly in this set that are clearly identifiable in your flybox.
Goldbead Hares Ear and Silverbead White Larva, both include lead wire as well as the bead.

Tungsten Stonefly, tied with an orange tungsten bead and lead, a very heavy fly.

6 flies for £3.20
CZECH NYMPHS - HEAVYWEIGHTS and SUPERHEAVYWEIGHTS #10/12
This set includes standard leaded tyings and gold/silverbead(which also include lead wire) patterns that weigh just that bit more.
Leaded Gold Ribbed Hares Ear
Leaded Pink Larva
Silverbead Killer Bug
Goldbead Hares Ear

8 flies for £3.50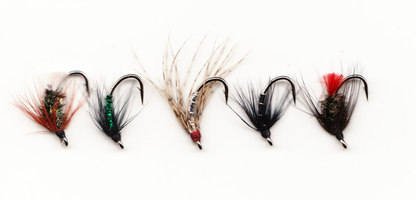 FANCY SPIDERS #14
These are useful for trout and grayling on any water. An extra bit of colour will often do the trick when other patterns fail. Try in peat stained waters or as the light goes.
Red Tag
Treacle Parkin
Silver March Brown
Murrays Bluebottle
Black Spider (silver ribbed)
10 flies for £3.90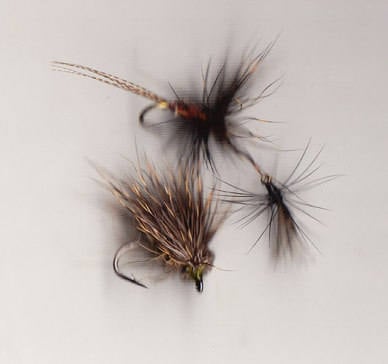 DRYFLIES #14
These three tyings in different sizes will cover most situations you will encounter on loch or river.
Deer Spider - simple little caddis/stonefly imitation, spaly the deer fibres and it is a daddy!
Straggler Mayfly - messy looking creature but outfishes the over dresssed feather jobs everytime
Long Legged Black Gnat - lots of little black things find their way onto the water this is the fly to try anywhere, anytime.
6 x #14 flies for £2.50
6 x #16 - as above but smaller
6 x #18 - even smaller, try these when larger flies fail.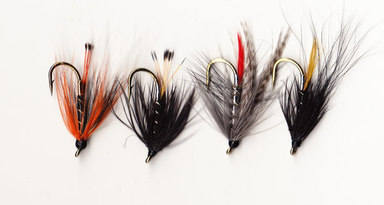 BIG WETFLIES HVY#8
These are traditional tyings on large heavy wire wetfly hooks. Useful on loch or river in a variety of situations. Try for sea trout in tidal rivers, also on the river as the light goes. Use on the point with wetflies on droppers in a big wave, the weight of the hook anchors the cast nicely.
Black Pennell HVY#8
Squirrell & Orange HVY#8
Grandpa Cox's Minnow Fly HVY#
Stoat's Tail HVY#8
8 flies for £4.90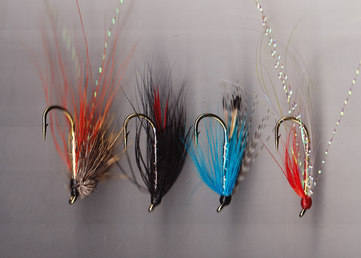 BIG WETFLIES HVY#8 (Sea Trout)
A few specials to try in salt or freshwater.
Size Zero Orange Muddler HVY#8 - Brilliant surface lure, this tying skates in the film creating that deadly wake.
Hairwing Butcher HVY#8 - black, silver and red, classic colour combination.

Teal, Blue & Silver - Classic tying that fish love.
Elver Fly - Sea Trout feed on sandeels and elvers, this looks like a living fish once wet
8 flies for £4.90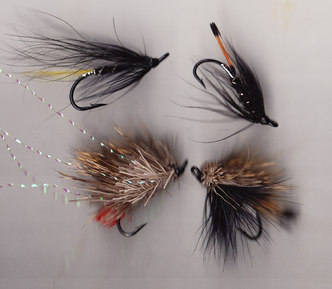 LOW WATER SINGLES #10/12
Buy these if you are heading toe the Highlands &Islands, great for salmon and sea trout in the salt or on loch and river.
Make a 'Hebridean Cast' a two fly team with the Spiny Norman on the dropper in windy conditions, or the Muddler in lighter winds, these make the wake that bring the fish up that take the bob or point fly.
Black Pennell
Stoats Tail
Spiny Norman
Black Muddler
8 flies for £5.90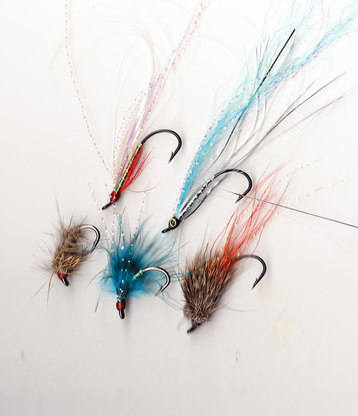 THE TIDAL ZONE LW#6
Whether you are casting at sea trout or mackerel fishing tidal esturies and saltwater lochs can provide some super sport through the summer. Fish feed on whitebait, elvers , sandeels and all manner of shrimps and louse type creatures, the following selection covers most situations.
Size Zero Elver LW6
Whitebait LW8
Cuddy Fly HVY#10
Size Zero Muddler LW6
Leaded Gold Ribbed Hares Ear
10 flies for £5.90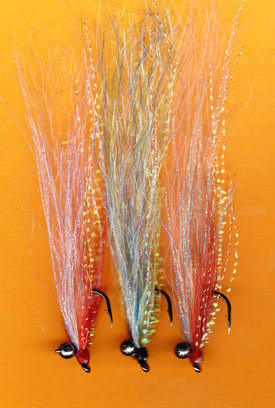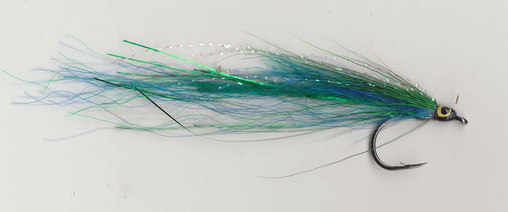 SALTWATER FLIES - THE DEEP WATER ZONE #2 & 4
These flies are tied on carp hooks and will land anything that swims in U.K waters. Click here to read an article on rock fishing.
Giant Shanks #2
Big Bass Elver #4
Whitebait #4
Silli Squid #2
8 flies for £5.90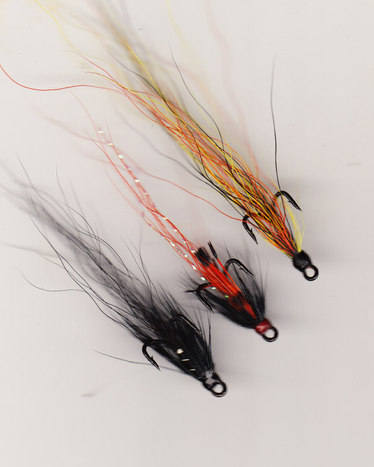 WEE TREBLES #14
When the larger doubles and tubes fail try these.
All Black
Mini Gunn
Orange Shrimp
6 flies for £5.70
P&P is free (minimum order £5)
CLICK HERE TO RETURN TO THE HOME PAGE