CLYDE STYLE SPIDER SELECTIONS
Try these on your favourite loch, stream or river. Original tyings that will fool wild trout and grayling worldwide. Most of these tyings are insect imitators but the larger patterns make super mini lures, especially useful on the point or in coloured water. The #12 patterns are great to try as the light goes, 'The Big Flee' will pick up larger trout which come out to feed in the evening.
Summer Selection #12/14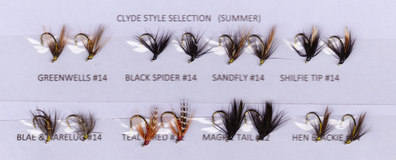 Warmer weather patterns useful on Loch or River. This set includes:
Greenwells, Black Spider, Sandfly, Shilfie Tip, Blae & Harelug,
Teal & Red, Magpie Tail, Hen Blackie
16 flies for £6.90

'Spring Selection'
Patterns included in this set: Blae & Harelug #14, March Brown #14, Blae & Black #14,
Dark Greenwells #14, Black Spider #14, Magpie Tail #12, Starling Tip #12,
Teal & Black #12.

2 of each 16 flies in total for £6.90 inc P&P
CLICK HERE TO RETURN TO THE HOMEPAGE